< Back to offers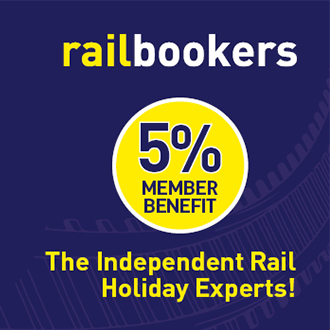 Railbookers
We've teamed up with Railbookers to give Railcard holders a 5% discount on holidays by train
Railbookers offers expertly planned holidays by train, with an extensive portfolio of holidays to Europe, North America and beyond. Their mission is to take the complexity out of independent rail travel and offer all their customers unparalleled service, incredible travel experiences and the very best value.
The team at Railbookers is made up of proud 'train geeks' with comprehensive knowledge and passion for all things 'rail holiday' who aim to share their expertise and insider advantages with you through every step of your holiday, from the first time you call, through a hassle-free booking process to the final moments of your journey.
Railbookers are proud to have a 99% customer feedback rating and have been the proud winners of many industry awards, including winning in the British Travel Awards for the past five consecutive years.
FLEXIBILITY
With Railbookers, you can book your trip at any time – even if tickets aren't on sale to the public yet, they can tailor make any of their holidays to suit your exact requirements.
CONVENIENCE AND RELAXATION
When travelling by train, you can say goodbye to lengthy queues at airport security, two hour check ins and strict packing restrictions. All you need to do is sit back, relax and watch the world go by.
HASSLE FREE
We know that with so many routes, trains, languages and providers, booking a holiday by rail can be a confusing and stressful task. That's where Railbookers step in! Your holiday will be professionally planned by rail experts, who'll organise all your tickets, timings, excursions and hotel stays, and send you everything you need for your rail holiday. It's that simple! All you have to do is sit back, relax and get on board!
Simply call 020 3780 2164 and quote SENIOR RAILCARD or click HERE to and claim your discount.
When you click 'Claim Offer' you will be taken to our partner's website. Once you have left our page please check our partner's privacy notice for information on how they use your personal data.