< Back to offers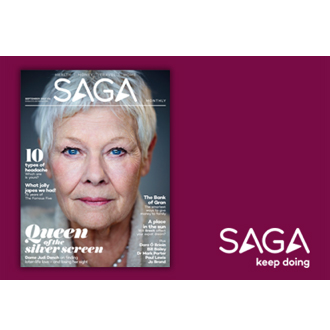 Saga Magazine
Subscribe to a year of Saga Magazine for just £12 - saving 75%
Be informed, entertained and inspired.
Saga Magazine is the UK's bestselling monthly subscription magazine and is enjoyed by more than 285,000 subscribers. Each issue is packed with invaluable financial features, trusted health advice, celebrity interviews, amazing real-life stories, travel, gardening, food, culture and much, much more…
Subscribe to Saga Magazine today, paying by Direct Debit, and you can get yourself 12 issues (a year) for £12 and then 12 issues for £24 thereafter. That's a whooping saving of 75% in your first year and a saving of 50% for each following year!
If you'd prefer to subscribe over the phone, please give Saga a call on freephone 0800 056 1057 and a member of their team will be happy to help.
View full terms & conditions