< Back to offers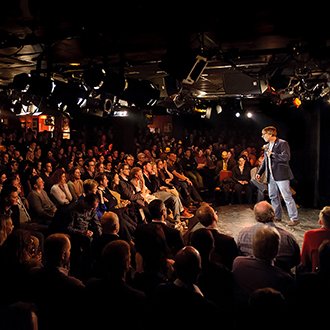 The Comedy Store
Save £5 at The Comedy Store - London
With over 38 years' experience in the business and as the premier name in comedy, the Store is renowned as a breeding ground for new comedy talent, and remains the place to see tomorrow's stars today. The likes of Eddie Izzard, John Bishop, Jimmy Carr, Rhod Gilbert and Sarah Millican – to name but a few - have all cut their comedy teeth at this iconic venue.
We've teamed up with The Comedy Store to offer Senior Railcard holders a £5 discount for a range of shows. On Tuesdays 'The Cutting Edge' take on the week's news with a topical mix of stand up, team games and music. On Wednesdays and Sundays 'The Comedy Store Players' improvise scenes, sketches and even whole musicals based around audience suggestions. The cast often features well-known faces from 'Who's Line is it Anyway?' with the likes of Josie Lawrence and Steve Steen regularly in attendance. You can also catch Paul Merton most Sunday evenings.
Finally on Thursdays (8pm) and Fridays (11pm) you can see 'The Best In Stand Up' which does exactly what it says on the tin. Five of the world's greatest comics take to the stage to bring smiles to the audience and fear to the front row.
So enjoy the biggest laughs money can buy at the venue every comedian wants to play!
To book
To book online, choose your show then click the red box marked "Do you have a promotional code?". Then type the code "RAIL25" in the promotional code box. You'll then be able to add the Senior Railcard ticket to your basket. Don't forget to bring your Railcard with you when you come to the show!
You can also book by phone 11am-6pm Mon - Fri or 12pm–10pm Sat – Sun. Call 0207 024 2060 to book or for more information. Mention you have a Senior Railcard.
Tickets can also be purchased at our box office.
View full terms & conditions