< Back to offers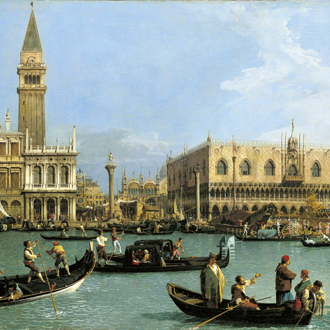 Exclusive offer for Canaletto & the Art of Venice
Receive 20% off entry to the critically-acclaimed exhibition at The Queen's Gallery, Buckingham Palace
From the splendours of the Grand Canal to the festivals, theatre and masked carnival of St Mark's Square, experience the irresistible allure of Venice, one of the most beautiful cities in the world.

The Royal Collection contains the world's finest group of paintings, drawings and prints by Venice's most famous view-painter, Canaletto. The works were bought by the young George III in 1762 from Canaletto's agent and dealer Joseph Smith, British Consul in Venice, along with the rest of Smith's huge collection.

Discover what The Telegraph has described as a 'sumptuous display of 18th century Venetian art', including a near complete journey along the Grand Canal through the eyes of Canaletto in a unique series of 12 paintings. Canaletto's greatest works are shown alongside paintings, drawings and prints by his contemporaries Sebastiano and Marco Ricci, Francesco Zuccarelli, Rosalba Carriera, Pietro Longhi and Giovanni Battista Piazzetta.

****
The Telegraph

****
The Evening Standard

Senior Railcard holders can receive 20% off entry to the exhibition when you book online, in advance, using the promotion code RAILCARD20. Simply enter the code when prompted in the booking process to receive 20% off the price of your tickets. The offer is valid on tickets dated between 6 June – 21 July and 2 October – 12 November 2017.
Click here to book your tickets.
View full terms & conditions