< Back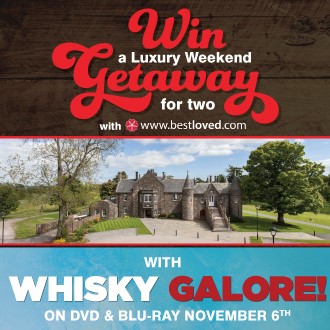 Win a luxury weekend getaway for two
A weekend away with breakfast, in a twin or double standard room at a Bestloved Hotel.
TO CELEBRATE THE RELEASE OF WHISKY GALORE ON DVD 6th NOVEMBER WE'RE OFFERING YOU A TWO NIGHT BED AND BREAKFAST BREAK FOR TWO AT ANY BESTLOVED HOTEL.
With Best Loved you will enjoy a relaxing break away. You will find our hotels in the glorious countryside, by the sea, near rivers and lakes, in sleepy picturesque villages and in busy city centres - and wherever you choose to stay, you will enjoy the warmest of welcomes, excellent food and wine, great service and, above all, a good nights' sleep.
Whisky Galore out to buy 6th November.

Based on the infamous 1941 true story, Whisky Galore! is a charming and heart-warming tale of a close-knit Scottish island community who mischievously relieve a sinking cargo ship of cases of whisky during wartime scarcity. The ensuing merriment is threatened when Excise Men try to spoil the party by catching the crafty locals, red handed, with the bottled loot. After enduring a dry period, the shipwreck and its amber cargo was like mana from heaven to the islanders, to whom whisky was part of the very life blood of their Island!
What's included in the prize:
Prize consist of a two night break for two people with breakfast, in a twin or double standard room at a Bestloved Hotel

Enter your details below for a chance to win:
---