< Back to offers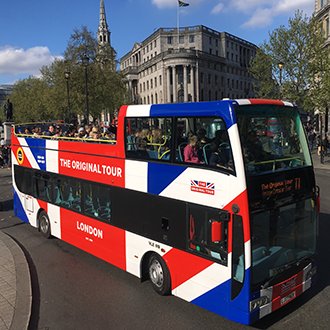 The Original London Sightseeing Tour
Enjoy the capital atop a famous union jack bus with The Original Tour
Experience the best of London aboard The Original Tour's famous union jack open-top buses. London's most popular sightseeing tour offers its guests the ultimate introduction to the capital and all 24 hour tickets include an unrivalled fleet of superb modern buses, three main tour routes with either multi-lingual commentary or entertaining English-speaking guides, 3 fascinating walking tours, a fantastic hop-on hop-off Thames river cruise and an exclusive Kids' Club.
►Online 24 hour tickets cost £34 for adults, £16 for children (5-15 years - Under 5s go free of charge) and £84 for families.
►Discover London's most famous landmarks and attractions on our Yellow Route while listening to entertaining live-guided commentary in English or digitally recorded commentary via earphones in 11 languages plus a Kids Club channel.
►The Blue Route is the Museum Tour and gives easy access to many of London's top museums, shops and attractions also offering multi-lingual commentary and access to the Kids Club channel.
►Free Walking Tours either start from the Original Tour Visitor Centre at Trafalgar Square (Changing of the Guard & Rock n Roll Tour) or Tower Hill (Jack the Ripper Tour).
►Free hop-on hop-off Thames river cruise pass with City Cruises.
To book your tickets today simply CLICK HERE.
When you click 'Claim Offer' you will be taken to our partner's website. Once you have left our page please check our partner's privacy notice for information on how they use your personal data.
View full terms & conditions